Office 365 Backup & Restore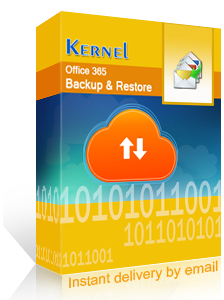 Powerful tool for Office 365/Exchange mailboxes Backup
An excellent tool to import PST files to Office 365 user mailboxes efficiently. Highlights of PST to Office 365 software are:
Create Backup of Office 365 to PST
Export Office 365/ Exchange files to Outlook PST
Backup Office 365 by Exporting User Mailbox, Archived Mailbox and Shared Malbox
Backup Public Folders and Groups of Office 365
Customize Backup Option
Works on Both Hosted Exchange Server and On-premises
Backup and Restore Files on Exchange Online
Search and Preview Files to Backup with Filters
Available for both Users and Administrators
---
Regular Backup of Exchange and Office 365 is highly recommended by experts to restore items in case of disaster recovery and the best tool that can do is KERNEL Office 365 Backup and Restore. Easy to use, flexible, user-friendly, smart engine and advantage to both backup data and restore it later, makes this tool completely satisfied software. The software can also be used to export Office 365 to Outlook PST. Here are some of its features
Backup Office 365 Files: The working system of the software is that it backup the Office 365 data by exporting it in PST file. The data remains in PST format and whenever required it can be restored by importing PST to Office 365 or Exchange without MS Outlook application.
Backup Exchange Server Mailbox: Whether you have account on hosted Exchange Server, On-Premises or Online Exchange the software works with all. So, there are no limitations and the data can be restored in same manner.
Export All Office 365 Mailbox: This highly advanced software has the potential to backup data from all Exchange mailboxes i.e. user mailbox, archive mailbox and shared mailbox. Office 365 Groups and Public Folders can also be exported and save in PST file as a part of backup.
Selective Backup Options: Most of the time, user backup only important files and folders to save space. In order to implement this, the backup software allows filtering of data on various parameters like date, item type, attachment, email ID. When these filters are applied only specific files appear that can be back up quickly.
Incremental Backup: If the backup is already taken and want to backup files again then select the incremental backup. By selecting this option, only files changed or added after previous backup will be saved in PST file. Moreover, its smart engine avoids empty and deleted folders while creating backup. This makes the process faster.
Multiple Mailbox Backup option: Office 365 multiple accounts get backup with the help of CSV file. The details of Office 365 and Exchange accounts are added in CSV which is then uploaded in the software. The software establishes links with accounts by details in CSV and backup them simultaneously. More than one backup process runs in parallel to other and save files reducing the over-all expected time to backup files.
Restore Data to Office 365: The software restore the items in Office 365 account by importing the PST file. Map the PST file to corresponding Office account and restore data easily. Here, the tool does not require Outlook application, it only needs PST file and Office 365 user credentials.
Generate/ Save/ Import/ Export files: All the process executed by Office 365 Backup software is saved in the log file. After the completion, user can check the number of items backed-up or restore. The log report can be saved in CSV format.
Compatibility: The Office 365 Backup and Restore Software is compatible with all versions of Outlook and Exchange Server. Also, it gives flexibility to install the software on Windows Operating System 10/8.1/8/7/Vista/XP/2000/98/NT and 95 and Windows Server 2016/2012/2008 R2/2008/2003 R2/2003