Affiliate Disclosure: Some links mentioned below are affiliate links, we may earn some amount if you make a purchase.
AutoCAD is a prominent software used to create drawing (DWG) files. These files are composed of objects, shapes, lines, arcs, polygons, and all other items. Scaling and precision are the most important factors in an AutoCAD drawing file. If there is a small error, it could affect the design of the entire product. Well, the object can be recovered but what if the drawing (DWG) file doesn't open. Most of the users complain of AutoCAD showing error 'Drawing file is not valid'.
---
---
It just comes as a shock when the file built with so much hard work fails to open. When opening the file in AutoCAD a message comes up in the dialog box 'Drawing file is not valid'. It usually indicates that the file is damaged and to fix this it needs to be repaired. However, other factors could also be responsible for DWG file error, like viewing the file in an incompatible version of AutoCAD. So, here we will see how 'DWG file is not Valid' error can be fixed without any interference to the objects, contents.
Causes of 'Drawing File is Not Valid' Error in AutoCAD
Corrupt or Damaged DWG File
Drawing file is created in a Non-AutoCAD product
Contents of the file resist it from opening
AutoCAD version is updated after creating DWG file
So, these errors prevent AutoCAD DWG file from opening, try these methods to repair the corrupt DWG file in AutoCAD, and remove AutoCAD Drawing File is Not Valid Error.
Method 1: Use AutoCAD 'Recover' Method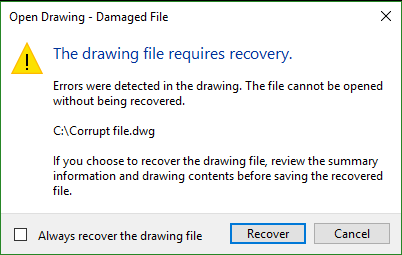 When the file is opened it is first checked and validated. If some contents of the file are missing then it can't be open. So to fix 'Drawing File is not Valid' follow the below steps
Open the AutoCAD tool and then go to File
From File menu select 'Drawing Utilities' and then 'Recover'
A new box will open, now browse the path to select the corrupt DWG file or enter the name of drawing file
The tool will run the scan and repair the DWG file
If the errors are fixed then it will be opened in the main window
Method 2: Delete DWL files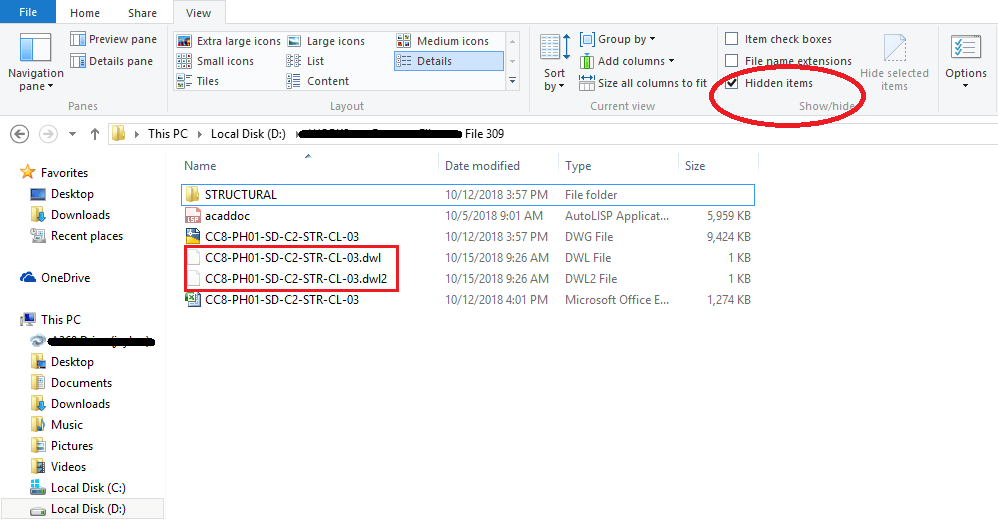 Go to the folder where AutoCAD stores the created file
Select the option to view hidden items
Go to Control Panel and click on Folder options
Now a new box will open, click on 'view tab'
Checkmark the option 'Show hidden files'
If there are xyz.dwl or xyz.dwl2 files in the folder, select and delete these files
Again open the DWG file
Method 3: Fix DWG File Error
User errors often create problems with files, like if the location to save DWG file is changed and it is opened, then it will show an error 'Drawing file is not valid' as DWG cannot collect all the components that are required to view files. So, save the DWG files at the specified folder.
If the Drawing file is saved with the new version of AutoCAD and now it is opened in the older version, then change the format of DWG to that format and open it. The AutoCAD DWG file will open without any errors. So, follow these free and manual methods to fix and avoid the AutoCAD DWG errors.
Method 4: Use Datanumen DWG Recovery Tool
Most of the time methods mentioned above will remove AutoCAD Drawing File is Not Valid Error, but in some cases, the AutoCAD file is still inaccessible and need to be repaired with some powerful third-party DWG recovery tools. Datanumen DWG Recovery is one such tool which can repair and recover severely corrupted DWG file easily. Below is the link to get Datanumen DWG Recovery tool
---

The steps involved to repair corrupt DWG file with Datanumen DWG Repair Tool are as follow :
Step 1: Start the software
Step 2: Select the corrupt DWG file for repair

Step 3: Select the format of DWG file if you know or leave it to Auto-determine

Step 4: After a successful recovery, the new file will be saved as abc_fixed.dwg file