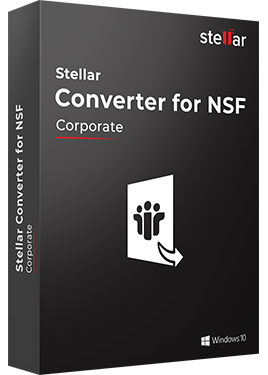 Lotus Notes to Outlook
Instantly convert Lotus Notes NSF files to MS Outlook PST files.
Migrate Lotus Notes NSF files to Outlook PST file
Option to save converted Lotus Notes mail items as EML, MSG or PST format
Provides preview of all items (Mails, Contacts, To Do list, Calendars, Personal Journal etc.) in a tree-pane window.
---
There are many email clients being used worldwide by techies and non-techies as per their business requirements and affordability. Out of these email clients, two popular email clients are Microsoft Outlook and Lotus Notes. Both clients use specifics files to store users' emails, their properties, attachments, contacts, and several other information. Outlook uses .pst file to keep the information while Lotus Notes uses .nsf file.
As both clients are popular, depending upon the business requirements, switching from one client to another is a common process but when carrying out this switch, users also want to switch their data, which means, they want to read .nsf file from MS Outlook. Unfortunately, there is no direct process of opening and reading .nsf file with MS Outlook but if NSF to PST Converter is used then users can read their emails, access contacts, and almost all information.
Let us see the benefits and features of NSF to PST Converter
Easy to install, run, and understand
Whether you are a techie or non-techie, installing, running, and understanding Convert NSF to PST software is quite easy. The software has been designed and developed to offer simplicity while providing the best results; hence, the interface is self-explaining. You just need to read the information available on the screen and you will be able to use it without any difficulty.
Fast & Reliable
This application works with lightning fast speed and is able to convert even a large nsf to pst in less time. However, the time may vary for files of different sizes. Also, we suggest you to create a backup of the nsf file before converting it to pst. To take backup, simply copy the nsf file and paste it in the same location.
Choose what you want to read in MS Outlook
Depending upon your requirements of the data that you want to access in MS Outlook, Convert NSF to PST tool gives you the possibility to select the items that you want to convert in pst file. This can be done after you have opened the nsf file with NSF to PST converter. After the file is opened, you select either all items or the one you need.
Multiple Saving Options
As the name of software is Convert NSF to PST, it does not mean you will only be able to save NSF file in PST format only. For example, if you want only a few emails then you can save them in .eml or .msg format as well. However, if you want to save all data, then a pst file will only be created.
Check Data Quality before ou save
NSF to PST Converter has been loaded with a preview feature, which lets to check everything you would be able to convert in a PST file. By taking advantage of this feature, you can check if the quality is good or not. Moreover, if you need only important data like some selected emails and contacts, then you can find and save them individually.