Affiliate Disclosure: Some links available on this website are affiliate links, so whenever you click on the link and buy the product we get a share of the sale.
Microsoft Excel is one of the popular tools which is used to store data in an organized manner. You can store large data on excel spreadsheets and perform actions in an easy manner than any other tool. You can add diagrams, insert pie charts, save contacts and other information on the Excel Sheet. MS-Excel stores all this information in .xlsx and .xls format. But certain devices or OS allows only vCard format. So to overcome such situations we must learn the steps involved to convert excel file to VCF format.
In the steps mentioned below, we will let you know about how the Excel to VCF conversion is done without using any software. There is no need to spend money on excel to vcf converter if you can follow the steps mentioned carefully. The conversion of Excel file to VCF format can be divided into three steps. In the first step, we will export an Excel file to CSV format. In the second step, this CSV contact file will be imported and in the final step, these contacts are exported to VCF format. Check out the detailed step below
Step 1: Convert Excel to CSV Format
In order to convert excel to vcf format, it is first converted in CSV format
Open the Excel file which you want to convert in your system
Click on the Office button at the top corner of the excel window
Now click on Save As>>Other formats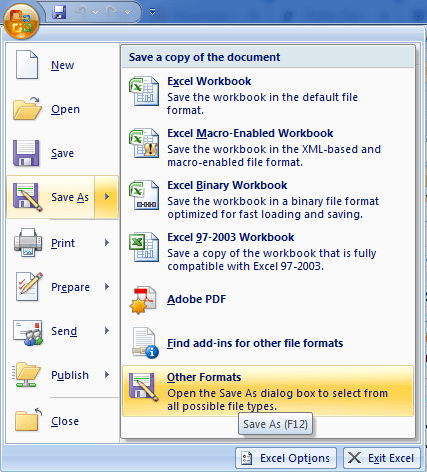 The save dialog box will open, select the folder or location where you want to save file
Now in Save As type option, click on the drop-down menu
Here select the option CSV (Comma delimited) (*CSV)
Click on the save button and confirmed yes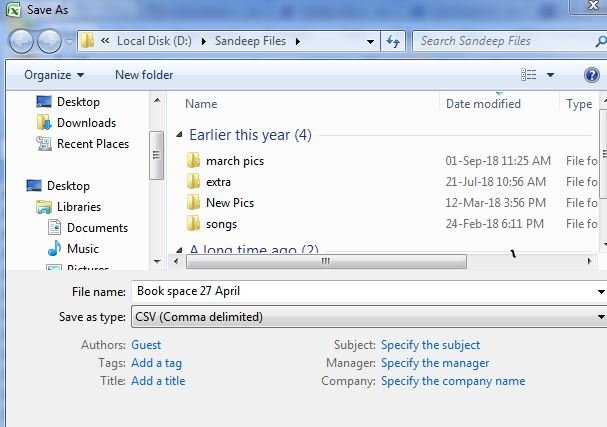 The Excel file is now converted to CSV format
Step 2: Import Contacts from CSV File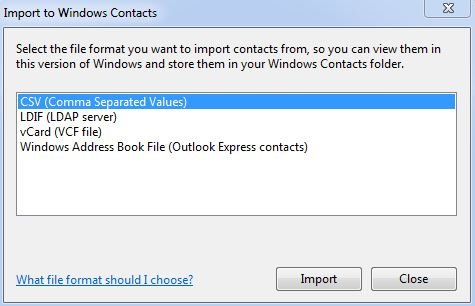 Go to Start Window and type contacts
Click on the contacts icon to open a contact window
Select the users available and click on the Import tab
Now choose format where you want to import, select CSV (Comma delimited) (*CSV) file
Now select the CSV file created before and click on next
The excel contacts will be imported
Step 3. Export Contacts to VCF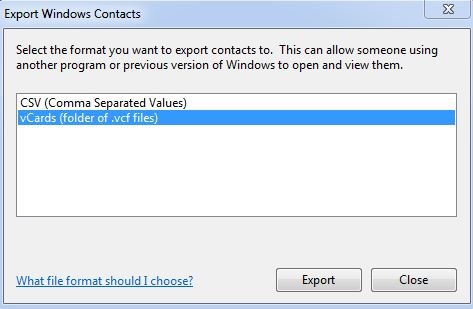 Again go to contacts window and click on export
Now select the option vCards (folder of.vcf files)
Click on the Export button
Select the folder where you want to save converted files
Your excel file will be converted to VCF format
In this way, you can manually convert excel to VCF format. The above method is manual and free but requires a lot of time and is also cumbersome, an easy way to do the same is by using third-party Excel to VCF converter. DRPU Excel to vCard is one such software which will do the task for you. In the next step, we will let you know how DRPU Excel to VCF converter can be used to accelerate the process of conversion.
Automatic Method – How to Use DRPU Excel to VCF Converter
Converting Excel files to vCard format by DRPU Excel to vCard Converter tools is extremely easy. Just download the DRPU Excel to VCF Software from below link and follow these simple steps and get vCard file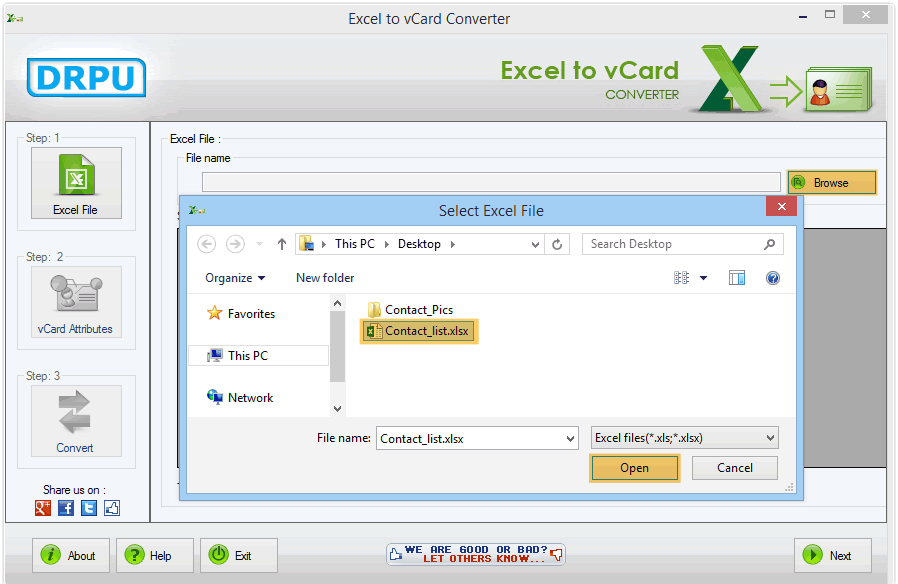 When the file is added all the contacts, with name, the email address will be displayed, click on Next button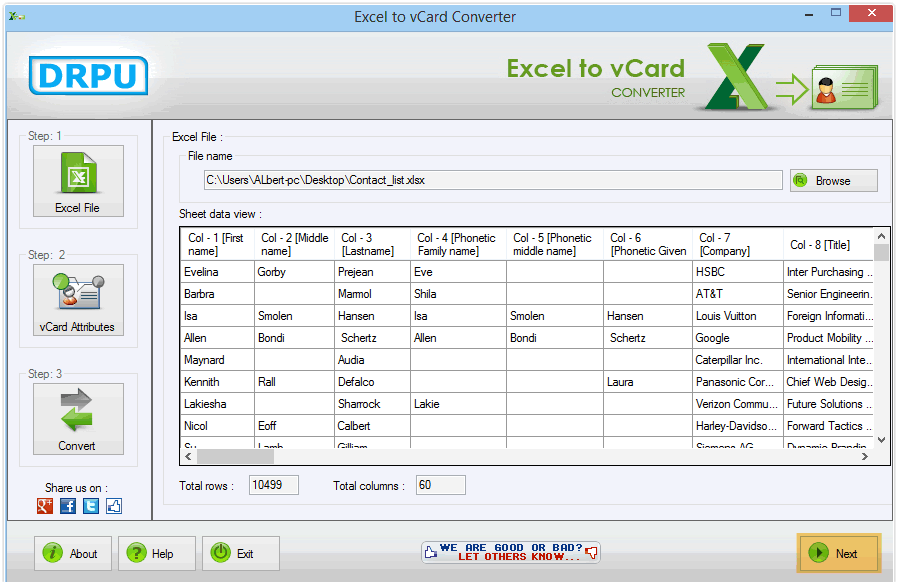 It will show you the matched attributes, click on the Next button
Select, to get single vCard file for all contacts or separate vCard for each contact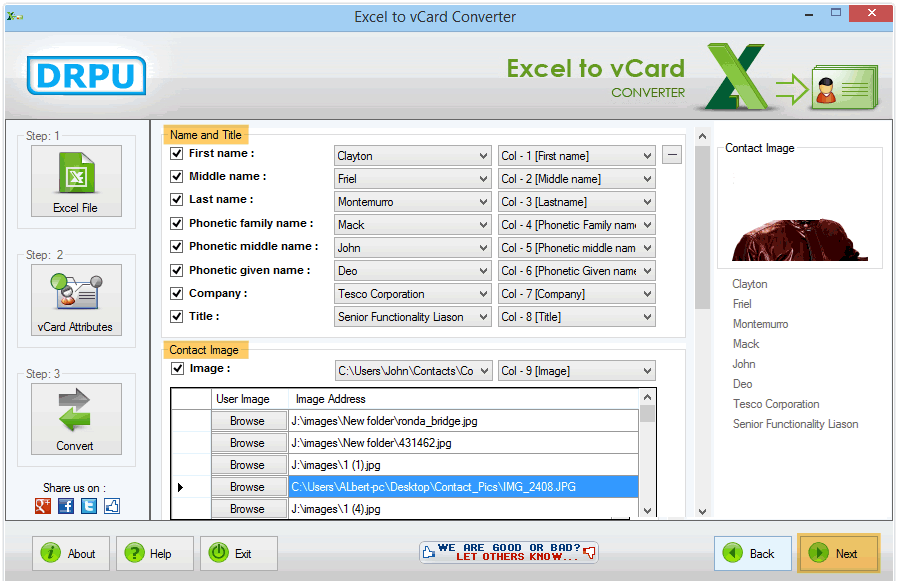 Choose the vCard version in which you want to export excel contacts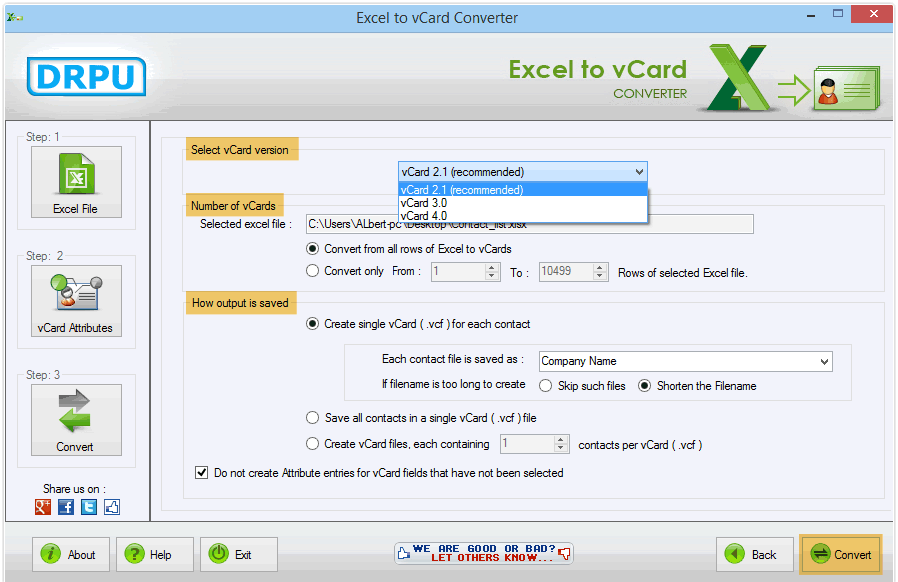 Browse to the location and check converted vCard file
So, it is quite easy than the manual process. The DRPU Excel to vCard converter instantly move the contacts and save it without any loss.
Other Third-Party Software for Automatic Excel to vCard Conversion
---
---