Affiliate Disclosure: Some links available on this website are affiliate links, so whenever you click on the link and buy the product we get a share of the sale.
Users who are disturbed with Outlook Metered Network Warning in Windows 10 can now disable it in simple steps. The metered network warning often happens when the system is connected over wifi networks like a mobile hotspot. While working on Outlook the message is generally displayed the network connection is a metered network. Here are the steps on how you can turn off the metered network warning in windows 10.
Also Read :
---
---
Outlook and Windows 10 both are the product of Microsoft and the company thinks of its users while creating a product. Hence to simplify the process one can turn off metered network connection warning from Network settings. Users just simply follow the process in order and get rid of Outlook Metered Network Warning.
Turn Off Metered Network Connection for Outlook in Windows
Hear how you can simply switch off the network warning in windows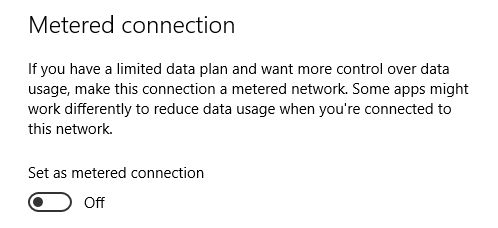 When you are on a Windows 10 system then go to start menu
Now move the cursor to the settings tab and click on it
Go to Network and Internet settings and look for the wifi you are connected to
Click on the Wifi network to change the settings
Now a list of options for the current network will appear
Scroll down the screen and look for a metered connection
Now slide the button towards off to turn off metered connection
Click on the Apply button to make changes
Now you can work on Outlook without any notification for metered connection.
Metered connection warning is generally displayed when we are connected to a network that has a limited data plan like your mobile hotspot. Turning it on reduces the data usage for some apps and they might behave abruptly. Show it is good to turn it off if you are not concerned with a data limit. Thus by following the above steps outlook users can disable metered connection warning in Windows 10.