Last updated on November 14th, 2018 at 12:12 pm
Although MS Outlook is one of the finest and most preferred email client among users worldwide, There are few other email clients as well which are used by a number of users Windows Live Mail is one of them. While Windows Live Mail stores emails and user information in EML files MS Outlook uses PST file, Therefore emails created with one program not synchronizes automatically with other client. Tody in this article I will tell you how to export emails from Windows Live Mail to Outlook PST.
---
Download Windows Live Mail to PST Converter

---
Before you start the process to export EML to PST you must ensure that MS Outlook is installed on your system with user profile created.
The following steps must be followed carefully to move your emails from Windows Live Mail to Ms Outlook
First Open MS Outlook
Now Open Windows Live Mail
In Windows Live Mail window, Click onFile menu then select Export now select Email Messages
Now select the format Microsoft Exchangethen Click Next
A message will pop up saying emails will be exported to MS Exchange or MS Outlook, Now Click Ok
Select the folders you want to export and Click Ok
ClickFinish
Note: The time taken by Export process depends on the number of emails you are exporting.
How to Export Contacts from Windows Live Mail to Outlook
In Windows Live Mail Click on Contacts > Export and Select CSV(comma seprated values
Now on CSV export window Click on browse and now select Desktop folder.
Type the name WLMContactsin the file name and press Save
Press Nextbutton to select the fields Now press Finish 
After the Export is completed you can close Windows Live Mail window, Now you have to import the contacts to MS Outlook.
Open MS Outlook.
Go to Contacts >File, select Open and now click on Import.
Now select the option "Import from another program or file"and click Next.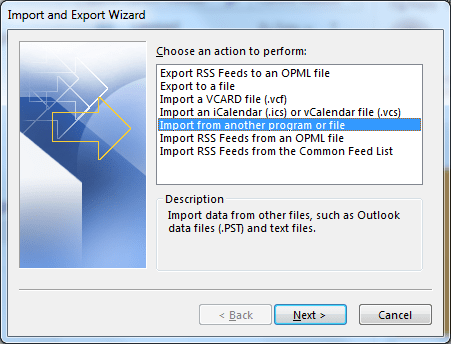 Select "Comma Separated Values (Windows)"and click
ClickBrows to select the file WLMContacts  then click Open.
Now click Next and then Finish
---
Download Windows Live Mail to PST Converter

---