Affiliate Disclosure: Some links available on this website are affiliate links, so whenever you click on the link and buy the product we get a share of the sale.
Windows 10 comes up with new features focusing more on security. The latest version of Windows Operating System from Microsoft is fast, secure, flexible and has many new applications. Users can download the apps from Window store and use them for various tasks. But it has made certain changes like opening PDF files in new browser Edge. Earlier, windows used other applications like Adobe Reader, Adobe Acrobat for PDF file management but if certain changes are made then Microsoft Edge couldn't open PDF. So, the question came how to open PDF in Microsoft Edge.
In Windows 7/ 8/ 8.1/ XP when the PDF gets downloaded it opens automatically. But Windows 10 user, gets the PDF file in Microsoft Edge. Even if other PDF readers are installed on system, Windows 10 uses Microsoft Edge. If there is some problem in Edge browser, then it becomes difficult to view PDF files. Errors in Edge browser prevent PDF from opening. Here are some techniques to open PDF in Microsoft Edge browser
Open PDF File in Microsoft Edge
If there are some errors while viewing PDF in Microsoft Edge then change the default PDF settings
Go to Start and click on Control Panel
From the options in Control Panel window select 'Default Programs'
Now click on the option 'Associate a file type or protocol with a program'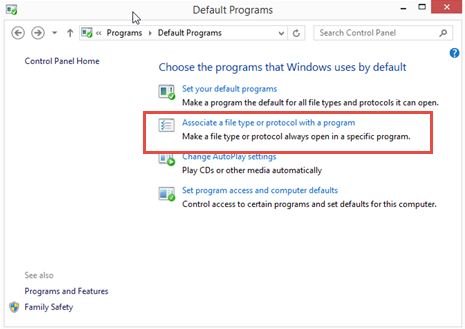 A new window will open, from the file type select 'PDF' and then click on 'Change Program' button
A pop-up box will open, choose 'Microsoft Edge' as default program to open PDF file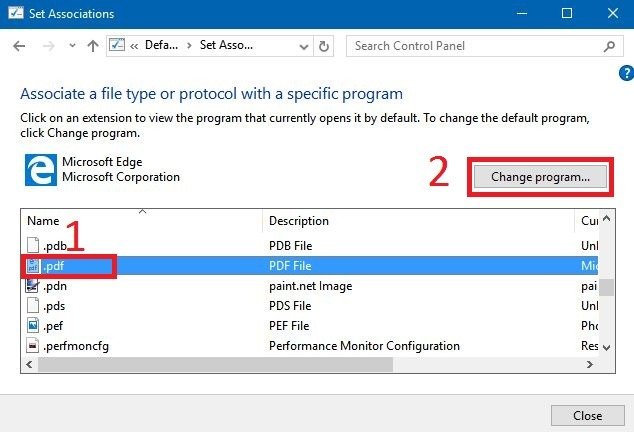 Checkmark on 'Always use this app to open .pdf files'
Click on OK and save the changes.
Most of the time it happens that the subscription for Adobe Reader or Acrobat Reader ends and it no longer open the PDF files. In situation to open inaccessible PDF files, set Microsoft Edge as PDF viewer.
How to View PDF in Microsoft Edge
To set Edge Browser as default PDF viewer in Windows 10, follow the below-given steps
Go to the location where PDF file is saved
Select the PDF file and right-click on it
Move to Open With and then select 'Choose Another App'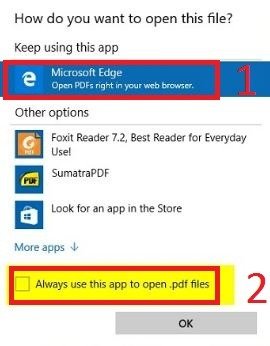 A new box will open, Select Microsoft Edge to open PDF right in browser
Checkmark to open PDF files and click OK
Disable Edge Browser PDF Viewer
Edge might enable users to view PDF files in browser but lacks certain functions like editing, or sending PDF files with Outlook. It only enables to zoom, print, find items in PDF. To stop edge from opening PDF and set to Acrobat then follow the given steps
Right-click on the PDF and select Open with
Click on choose another App,
Edge will be set as default application, now select 'Adobe Acrobat'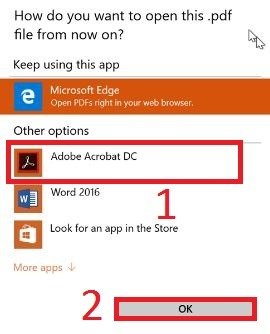 Tick mark the always open app option and click OK
Double click on PDF and it will open in Adobe Acrobat
These are some of the techniques to Open PDF in Microsoft Edge browser and select it as default application to view the file. However, before changing the PDF viewer in Windows 10 make sure that the problem is in reader or PDF. Corrupt PDF file will not open in any reader. The expert PDF converter is an ultimate tool to repair PDF file. It removes the errors in PDF documents and allows to edit, add, delete items from the PDF file. So, check the quality of PDF in Expert PDF converter and then use Microsoft Edge to open it.