Last updated on March 22nd, 2019 at 01:09 am
With increasing dependency of businesses and individuals on emails, a plethora of email programs and applications are available to users. Microsoft Office suite is one of the effective and well-known software applications with unprecedented features like task manager, calendar, contact manager, web browsing, and notes. The outlook uses Personal Storage Table or PST file to store mailbox messages. The .pst files are categorized into two types:
ANSI PST: MS Outlook 2002 and earlier versions uses this format which has capacity to store up to 2 Gigabytes (GB) data
Unicode PST: MS Outlook 2003 and newer versions of Outlook has this format with capacity to store up to 50 gigabytes (GB) data
---
Featured Product:                                 Download Stellar Outlook PST Repair

---
However, the data storage format of a PST file is often prone to file corruption and error as its size limit exceeds due to unlimited emails and heavy email attachments. This may result in:
Frequent file hang ups
Poor mailbox performance
Vulnerability to virus attacks
Driver Failure
Unexpected system shutdown
File inaccessibility
To avoid loss of critical data stored in the PST file, Inbox Repair Tool (SCANPST.EXE) provided by Microsoft Outlook expeditiously mends and recovers important items from the folder and saves this information into a new file.
SCANPST.EXE repair PST file by using the following steps:
Step 1 : Run the tool to identify and fix errors: The user needs to locate Scanpst.exe file on the hard drive of their system and click on the tool to initiate the process.
Depending on the version of MS Outlook you are using the location of scanpst.exe differs for example
For Outlook 2013 it is <disk drive>Program FilesMicrosoft Office 15rootoffice15
For Outlook 2010 it is <disk drive>:Program FilesMicrosoft OfficeOffice14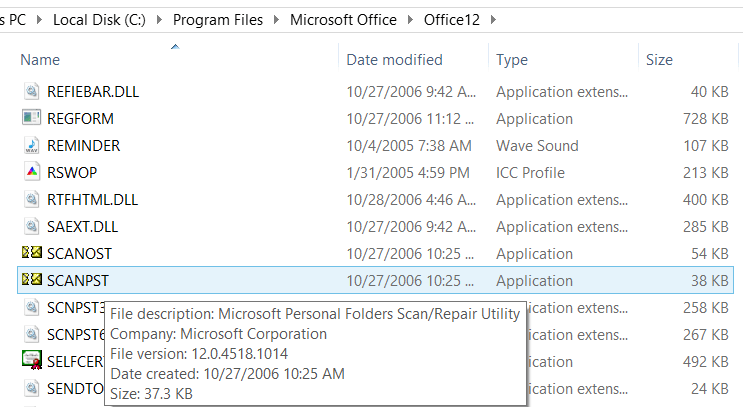 Step 2 : Repair PST File: Locate the path on the system to scan and select the file which you want to repair. The scanning time entirely depends upon the size of the designated PST file.
Step 3 : Recover fixed items to a new file: Once the corrupted file is restored, the software prompts the user to move these recovered items to a back-up file or a new PST (Personal Folder) file.
Step 4 : Save retrieved PST file: The information imported in the backup file is saved at a specified location on the hard drive in multiple formats – .MSG, .EML, .TXT, and .VCL.
However, if the problem remains unfixed, you can opt for third-party Repair PST file software. These software applications are inevitably easy-to-handle, ensuring desired output in just couple of clicks. The user-friendly GUI help end-users to carry-out the holistic PST repair process at their own.
The most reliable, fastest and secure PST file repair tool is offered by Stellar Data Recovery. Stellar Outlook PST Repair tool helps in repairing and recovering the corrupted PST files in Outlook in no time, all without sacrificing the data integrity. The software first quickly scans the corrupted file in Outlook and then initiates the recovery process, taking user through each step.
---
Download Stellar Outlook PST Repair

---