Last updated on August 6th, 2019 at 11:26 pm
MS Outlook is one of the prominent email client that is used by professionals for email communication. It provides several services in addition to sending and receiving emails which includes organizing meetings, reminders, sharing files and keeping notes. It is a perfect tool for a working professional. However all of this depends upon a single file and that is PST. Personal Storage Table (PST) has the entire data and it should be maintained properly. Damaged PST file is hard to recover and could result in abnormal behavior of Ms Outlook. So in order to bring Outlook back to normal we have to repair the PST file with inbuilt PST repair tool.
If the PST file gets corrupt, the Outlook halts and we need to repair it as soon as possible. A right method is required to repair the damage Outlook PST file and for that one needs to know the cause of PST corruption only then we can take a right approach and get back PST to normal. So how does the PST file gets corrupt and what are the best ways damaged to repair PST in Outlook?
---
Download PST Recovery Software from Stellar

---
Causes of PST Corruption
Large size of the PST file
Unexpected shutdown of system
Poor management of file structure and folders in Outlook
Virus attacks via mail
Outlook not upgraded to latest updates
These are some of the reasons which causes PST corruption and damage it. The symptoms of PST damage are slow performance of Outlook, emails are not sent and stored in Outbox, unable to access files and folders. So, the extent of PST corruption can be analyzed as it disturbs all the Outlook activities and shows error messages. In such cases there is immediate need to repair PST file in Outlook else, user face various errors.
Common Outlook Errors and Solutions (Repairing Damaged PST)
pst is not a personal folder file
exe doesn't recognize the PST file
Outlook shows error code Error: ISTORX32.DLL
Cannot access the Outlook.pst file
All these errors denote that Outlook PST is severely damaged and should be repaired. So, one of the free method to recover PST file is inbuilt tool SCANPST.Exe
SCANPST.EXE repair PST file by using the following steps:
Step 1 : Run the tool to identify and fix errors: The user needs to locate Scanpst.exe file on the hard drive of their system and click on the tool to initiate the process.
Depending on the version of MS Outlook you are using the location of scanpst.exe differs for example
In Outlook 2019: C:\Program Files (x86)\Microsoft Office\root\Office16
Outlook 2016: C:\Program Files (x86)\Microsoft Office\root\Office16
For Outlook 2013: C:\Program Files (x86)\Microsoft Office\Office15
Outlook 2010: C:\Program Files (x86)\Microsoft Office\Office14
Outlook 2007: C:\Program Files (x86)\Microsoft Office\Office12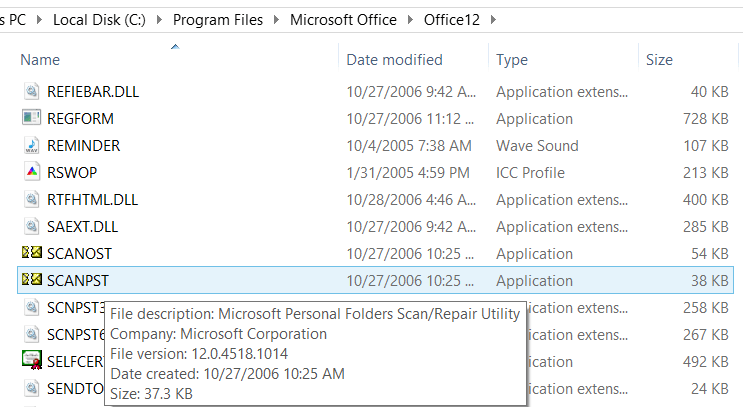 Step 2 : Repair PST File: Locate the path on the system to scan and select the file which you want to repair. The scanning time entirely depends upon the size of the designated PST file.
Step 3 : Recover fixed items to a new file: Once the corrupted file is restored, the software prompts the user to move these recovered items to a back-up file or a new PST (Personal Folder) file.
Step 4 : Save retrieved PST file: The information imported in the backup file is saved at a specified location on the hard drive in multiple formats – .MSG, .EML, .TXT, and .VCL.
However, if the problem remains unfixed, you can opt for third-party Repair PST file software. These software applications are inevitably easy-to-handle, ensuring desired output in just couple of clicks. The user-friendly GUI help end-users to carry-out the holistic PST repair process at their own.
The most reliable, fastest and secure PST file repair tool is offered by Stellar Data Recovery. Stellar Outlook PST Repair tool helps in repairing and recovering the corrupted PST files in Outlook in no time, all without sacrificing the data integrity. The software first quickly scans the corrupted file in Outlook and then initiates the recovery process, taking user through each step.
How to Use Stellar Repair for Outlook to Repair PST File 
Start the Outlook PST repair tool in your system by double clicking the icon or by using Right Click > Run
Now, click at home and select Outlook PST button
Click on the 'Browse' button to add PST or click on 'Find' if the PST path is not known
Next, click on 'Repair' button and the tool will start scanning
It will generate the preview of files , check the items from folders and select which you want to recover
Proceed next and select file format as PST
Click on the 'Browse' button and select location to save PST
The tool will repair and recover all Outlook PST items.
The software comes with additional advantages and allows saving recovered data in MSG, EML, RTF, HTML and PDF format. The tool recovers all the items and repairs all PST components. So download PST recovery tool for free and restore PST.