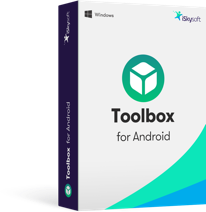 Recover Data from Android Phones
Recover photos, videos, call history, contacts, messages and more from Android phone and SD card with iSkysoft Android data recovery software. Rescue data from tab also of any brands
Retrieves Android application package files (.apk) along with other music, video and image files
Support all version of Android OS i.e Android 7.0/6.0/5.1/5.0/4.4/4.3/4.2/4.1/4.0/2.3
---
Now a day when android based smartphones has made an important place in life of human beings, people are relying on these phones for tasks such as listening to music, capturing lively moments, recording videos, staying in touch with nears and dears with apps like Whatsapp, Facebook, Gmail, Twitter, SMS, etc. While these phones are helpful, there can be times when you find yourself in a situation of data loss, and badly in need to recover the lost data. At that time, Android Recovery software helps you.
When data can be recovered with Android Recovery
  The software can help you recover the lost data in below cases:
You have accidentally or mistakenly deleted some important files like videos, photos etc
OS has been damaged leaving you in data loss
You had set phone to factory settings
You lost data due to ROM flash
You lost all data when you unlock boot loader
You cannot access data after the phone is broken
What type of data can be recovered with Android Recovery
  It is an apt solution that helps you get hold on almost all types of data including the following list:
Photos: Whether you have lost photos captured by the phone's camera or downloaded from the internet, you will get them back.
Videos: With this application, you will get all types of videos back.
Audio: Have you recorded some audios or received audio files in Whatsapp? Do not worry, you will get them back.
Contact: One of the most important items that everyone wants back is the contacts lists, as maximum people do not write contacts anywhere else now a day. This software helps recover lost contacts back in formats like txt, xml, xls, vcf, or vcard.
Messages: Gets the lost messages back with their properties like sent to, date and time when the message was sent or received, message content, etc.
Call history: You will also get the call history back.
Whatsapp: One of the most important apps is whatsapp. And, with this software, you will get whatsapp contacts, messages, and data back.
Other types of files: Apart from the above data, the software recovers databases, apps, documents in formats like pdf, doc, ppt, html, etc.
How iSkysoft Toolbox - Android Data Recovery software works
The software has two recovery options namely Quick recovery and Deep recovery. To access these recovery options, you can connect software and phone using WiFi or USB.
Quick recovery scan works faster is gets finished in about 2 to 3 minutes. In this duration, the software looks for only lost and deleted items and recovers them.
Deep recovery scan, as the name suggests takes more time. During this scan the software thoroughly scans the phone including existing, lost, and deleted data. It looks for all types of files like photos, videos, apps, messages, etc.
Whichever scanning option you select, after the scanning is done, the software gives you a preview of the recovered data, which you can save on your computer as well. Also, the software makes your job to locate the deleted / lost items easier by highlighting them in red color thereby it saves time as well.