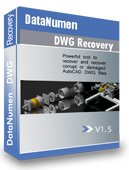 Repair DWG File
Recover your damaged AutoCAD *dwg files safely and securely with this efficient AutoCAD Recovery Tool
Recover .dwg files created from AutoCAD 2000 to latest version
Repair essential objects of corrupt AutoCAD file like XLINE, 3DFace, LINE, ARC, POLYLINE (2D), DIMSTYLE Control and other
Get all your deleted, lost & found objects in DWG files
Output fixed file in AutoCAD R2.5, R2.6, R9, R10, R11, R12, R13, R14
Save Your Output files in DWG and DXF format
Easy to use drag and drop feature
Supports Windows from 95/98/ME/NT/2000/XP/Visa/7/8 to latest Windows 10
---
AutoCAD files are very important as they are used to design large machines structure, blueprints for construction design and even electrical computer chips. What is major feature of AutoCAD is to design material keeping each and every minor detail. Loss of AutoCAD files is difficult to accept as they are associated with large projects. AutoCAD Recovery Tool repair and recover files securely without any data loss maintaining the accuracy. Here are some salient features of AutoCAD Recovery Tool
Features of DWG File Repair Tool

Recover Files Created from All versions of AutoCAD
AutoCAD Recovery Tool has the ability to automatically detect the version of AutoCAD and recover .dwg files from AutoCAD R14 to 2006/ /2007/2010 and other higher versions available. It scans the files in which version they are created and recover the files in same format. You can Save the Output files as DWG and DXF.
Can Repair Wide Variety of Objects
Main focus has been laid to repair minor objects used in AutoCAD designing including BLOCK, POINT, LINE, ARC, CIRCLE, ELLIPSE, SPLINE, XLINE, RAY, SOLID, 3DFACE, VERTEX & POLYLINE (2D, 3D, MESH, PFACE), TEXT, TRACE, ATTRIB, ATTDEF, ENDBLK, SEQEND, INSERT, DIMENSION, CONTROL OBJ (LINEAR, STYLE, LTYPE), DIMSTYLE and many others. This ensures safe recovery of files with complete accuracy
Preview of Recovered Objects
When AutoCAD Tool scans damage files it allows you to preview recovered objects. You can also zoom, rotate, move items for complete satisfaction. Select files and ensure the accuracy is that file is o be recovered or not.
Recover Deleted Files As well
AutoCAD Recovery Tool not only repairs corrupt AutoCAD .dwg and .dxf files but also recover deleted, lost & found objects in DWG file. Get back your temporary drawing files in case of disaster easily with this amazing tool. Things are limited not only to this, you can repair data from corrupt media as well.
Batch file Recovery
If you have multiple DWG files in your project and due to corruption all files got damage, then you can batch process multiple .dwg files simultaneously and get recover them instantly. You also have the option to save recovered *DWG files in AutoCAD R2.5, R2.6, R9, R10, R11, R12, R13, R14, 2000 to 2014 format.
Compatibility and Easy to Use GUI
AutoCAD Recovery Tool can be used with Windows 95/98/ME/NT/2000/XP/Visa/7/8/8.1/10 and Windows Server 2003/2008/2012 and it can integrate with windows explorer to give easy to use feel. It's drag and drop option makes process even faster.